Caveman Treats: Paleo Chocolate Chip Cookies
After a late night baking marathon on Monday night, I have officially changed my mind about
Caveman/Paleo cooking
. I purchased all the necessary ingredients at HEB and the commissary. Not pictured is a bag of
almond flour
that was about $13 at HEB, but "only" about $7 at the commissary.
Most of the recipes I wanted to attempt called for unsweetened shredded coconut, but I could not find them in Walmart, Target, HEB, or the commissary. This reminded me of when The Hubby asked me to send him Crispy M&M's when he was at Ranger School and when I couldn't find any I was almost frustrated enough to cry. Until I Googled it and found out that they're only sold in Europe...
These ingredients were extremely expensive and somewhat difficult to find. I also made sure to buy eggs from cage free, free roaming chickens even though they cost three times more than the other eggs. I'm really surprised that I was able to find the Enjoy Life brand of semi-sweet chocolate chips that are dairy, nut & soy free, a necessary ingredient for
Paleo chocolate chip cookies
.
I got this awesome
recipe
for Paleo chocolate chip cookie from our friend Shirley who is a follower of my blog. You see what good things come to you when you share your life on the internet? Everyone should start blogging.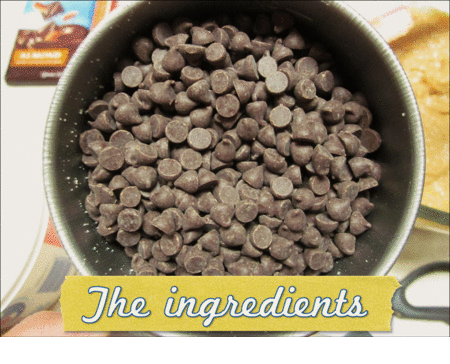 I had originally wanted to use
another chocolate chip cookie recipe
, but something about the one Shirley shared called out to me. I knew it was going to be good as soon as I started making the dough because it smelled amazing even before I put it in the oven.
Directions: Preheat oven to 375 degrees. Mix together dry ingredients. Mix in wet ingredients. Slowly add chocolate chips and combine. The dough will be much runnier than the conventional chocolate chip cookie. Drop tablespoon size balls of dough onto cookie sheet lined with parchment paper two inches apart. Bake 7-8 minutes or until edges are brown.
Don't pay attention to the color of my nails. The Hubby saw them over webcam and said, "What's wrong with your nails?" I guess mint green is not for me. I thought it would be a fun springtime color, but my fingers looked diseased.
After the cookies completely cooled overnight, I took extra precautions to make sure that they would make it to The Hubby in Iraq intact by wrapping them in plastic and putting a piece of cardboard in between each cookie. I then placed the cookies in a cheap container that I saved from when we used to buy lunch meat. I knew I saved that cheap tupperware for something!
Another way to send cookies safely is by wrapping each cookie individually with plastic wrap, and then stacking them in an empty Pringles can. I did this for some Easter sugar cookies a few weeks ago and The Hubby claimed that they got there safely. I would have gone the same route this time, but I did not want to eat an entire can of Pringles myself just so that I could stuff cookies in it.
I have a couple of other Caveman recipes to share with you. I can't wait for The Hubby to get his package so that he can tell me whether or not he likes these cookies. If they arrive half as tasty as they were out of the oven, then he is in for a treat!